Review
Collecting and discovering papers to read is one thing.
Next stop – ensuring you have everything you need to read and understand them.
PDF Viewer
The heart of Qiqqa, with all the features you'd expect from a regular PDF viewer, plus more tailored just for the serious researcher.
Annotations, highlights, free form drawing
Add your notes directly to a section of the document. Use the colors your prefer, add tags, even a rating and follow up date. Got a stylus? Write or draw in freehand on your document.

View multiple pages at once
Most PDF viewers battle to show you the 10000ft view. But in academic papers it's important – you could be hunting for a certain table or image. Qiqqa manages to provide great performance in both scenarios. You can rotate pages as needed.

Annotations Summary
Particularly useful for large documents, the annotations summary shows you a preview of your important sections, and allows you to jump straight to that part of the document.
Automatic Abstract
Qiqqa attempts to automatically find and extract the document's abstract when available.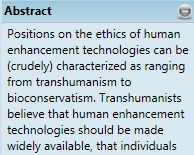 Automated Jump Links and bookmarks
If your PDF has bookmarks, these can be easily accessed. If it doesn't Qiqqa will attempt to find the main sections in your document (e.g. the Introduction, Conclusion, etc.) and create shortcuts to them. You can also drop up to 9 of your own bookmarks for easy access with keyboard shortcuts, to navigate within your document.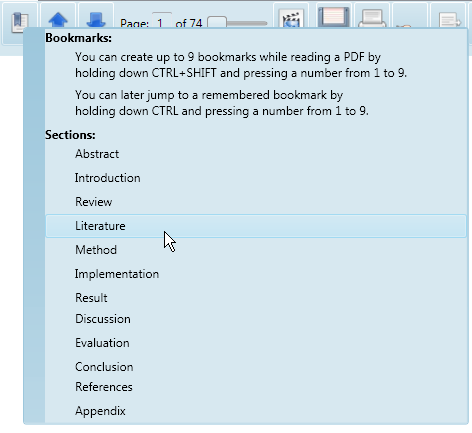 Tabs
Open multiple documents at once, or the same document as many times as you need to, so you can see different parts at the same time.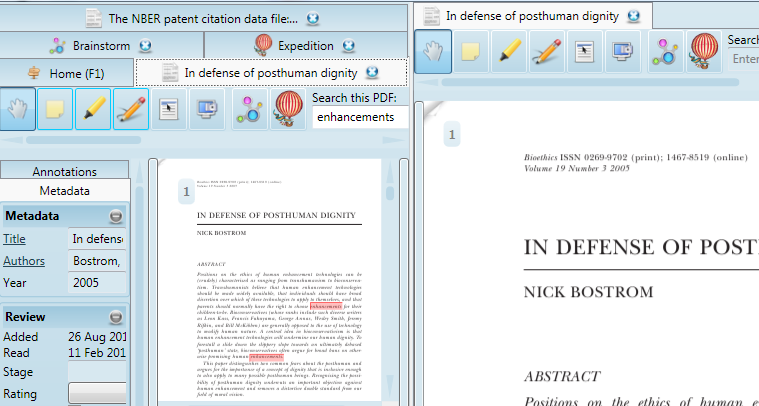 Dictionary & Web Search
Select any part of your document, then easily search the web (including Wikipedia) or find dictionary definitions.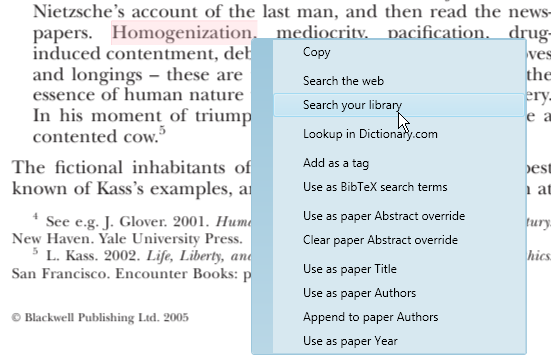 Context
Qiqqa brainstorming lets you "place" a new document in the literature before you read it than to explore its authors, what else in your library they wrote, who else they cited, and even what tags you or AutoTags Qiqqa gave to each of the documents.
We have found that first exploring around a paper before reading it really puts the paper into context, and leads to better understanding of the paper as we read it.
And then a few months after you have read it, you can come back and explore it all again to refresh your memory - this time with all your annotations!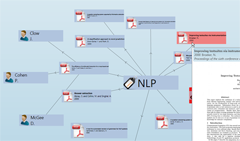 Annotation Reports
One of Qiqqa's most popular features – quickly create a summary document of the annotations in your library (optionally filtered by any search criteria).
The summary document can contain any combination of the abstracts, your own notes, your annotations, highlights, and inks. The exact content is customizable when you create the report.
The OCRed text is available just below the image of your annotation so you can copy and paste it.
The result is a neat summary document with the bits you've marked as important in your documents
Perfect for reviewing a topic before an exam, giving a lecture, or presenting a law case.
View sample Annotation Report.

Cloud Sync
These days many of us work on different computers. Perhaps you have a home desktop, a lab laptop, and a tablet that accompanies you wherever you go.
Using Qiqqa's Sync, you can stop constantly copying files onto a USB stick to move them from one machine to the other. No more emailing back and forth.
Just sync your documents and they're available wherever you are - online and offline. We have a dedicated Android app.
Unlimited Storage
No limits on file size or library size. We offer a very generous free amount of storage, after that its extremely affordable – aimed at student budgets.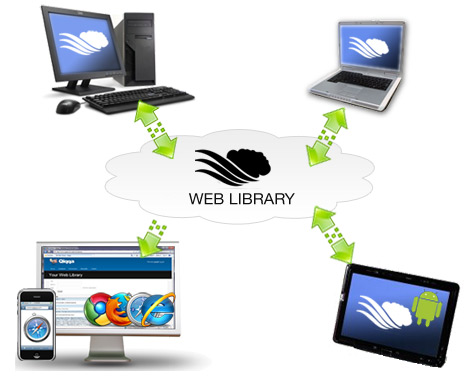 Web library
After syncing, you can access your documents using a regular web browser if you need to.
Search your library (even via tags) and download the PDF to view it, even without the Qiqqa application.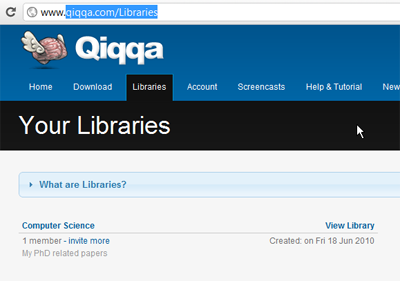 Mobile App
Qiqqa comes with a dedicated Android companion application for viewing your documents on your Android device.
Includes annotation and highlight viewing, and editing, so you can review and mark up your documents on the go.
Works offline. Free.